Condor Wings…Hummingbird Grace
Manos del Peru partners with teams of indigenous artisans in provinces throughout Peru. These talented individuals employ traditional techniques such as hand-crocheting and weaving, infusing each piece with individual style and heritage. The result is not only beautiful, authentic design, but long-term, positive economic impact on local communities.
The groups are lead by experienced artisans, who serve as liaisons between our main office in Lima to manage production and fill orders in a timely fashion, whether our customer requires a large batch or a single custom creation.
MARIA
HUANCAYO
Maria was raised by her grandmother, who taught her the art of crochet knitting at an early age. Today she is an essential member of Manos del Peru's network of artisans, leading a team in Huancayo ("place with a sacred rock" in Quechua). She has been gracing us with her talents for over 10 years, in which time she has transformed her family's circumstances – even sending her son to college as the first in her family to attend.
GUISSE
HUANCAYO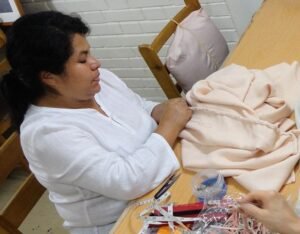 On any given day Guisse can be found in the lush Mantaro River Valley, leading a large group of both aspiring and experienced artisans. She has earned the admiration of many by teaching local women and mothers the crocheting techniques passed down from their ancestors, and in the process helping them develop practical lifelong skills.
ENRIQUE
CAJAMARCA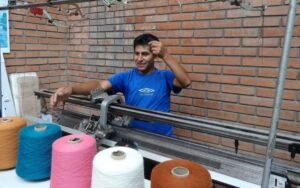 We are blessed to have Enrique on our team. Working in his home city in Peru's northern highlands, he is an expert in intarsia knitting techniques, which involve knitting with blocks of color. A true master of his craft, Enrique creates intricate designs utilizing up to 20 colors at a time.
RITA
PUNO
For many years, we have been fortunate to collaborate with Rita, who makes her home on the shores of Lake Titicaca. She is a tireless team leader with a gift for finding hardworking knitters to join her group. Many live in remote areas, and it is with pure joy that she offers them sustainable job opportunities where they might otherwise have none.